December 9th, 2017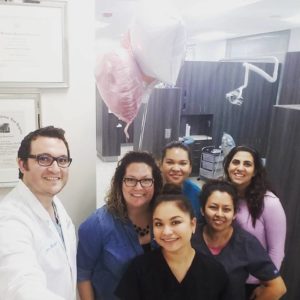 Happy Holidays from all of us at San Marcos Family Dental. As the year ends, we have so much to be grateful for. We are wrapping up our second Christmas and our second year in business at the end of February. This has been the most incredible year of our lives as we were able to accomplish many of our desired goals. First of all, we want to give a huge shout out to all of our patients who trusted San Marcos Family Dental with their dental healthcare needs. We have seen tremendous growth throughout the entire 2017 year.
In fact, we grew so much that we accomplished our second goal of having Dr Constantine Reppas join the staff at San Marcos Family Dental full time. Yes! The husband and wife team of Dr Joanna El-Maasri and Dr Constantine Reppas is now complete! We couldn't be happier and we couldn't be more proud. We couldn't have done it without our amazing patients who trusted us with their dental healthcare needs. Thank You to everyone who has made this journey possible. From our front office staff to the dental assistant, we couldn't have done it without you! It takes the team to do what we do here at San Marcos Family Dental in San Marcos Ca.
Lastly, but probably most important, we were blessed to start our family with the arrival of baby Eva late October. That's right, not only were these two doctors growing their business from the ground up, they were blessed to start a family! Dr Joanna El-Maasri is enjoying some time home for now, but has already been back to the office several times to take care of things! She is a "go-getter" that's for sure and we love her for her dedication and commitment! Not to mention, she is an amazing dentist!
We look forward to enjoying some time off with family around the holidays and we hope you will too. Call the office to schedule any last minute appointments. Don't forget to maximize your dental insurance benefits and schedule your last appointment of the year!