December 28th, 2017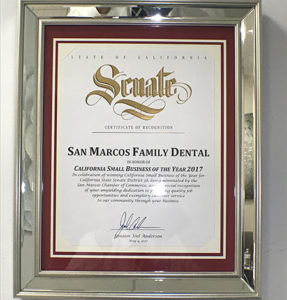 Congratulations to San Marcos Family Dental for receiving the California Business of the Year Award from Senator Joel Anderson's Office in 2017. You so deserve it. We are so proud of all of your accomplishments in such a short period of time.
I came into San Marcos Family Dental yesterday to talk about my treatment options for my loose tooth. I have a crowns in the front from an old motorcycle injury where I face planted into the asphalt, leaving me toothless in the front. I have very little underneath that crown, so there isn't much for the crown to grab onto anymore. I also have suffered from receding gums to to periodontal disease, which is just another reminder to brush and floss twice daily.
My options were to have an implant done and replace the crown with an implant or to do a double implant where a bridge would replace all my front teeth. Honestly, the second option scared me.... a lot! To preference this story, we spoke about these options almost a year ago, but I put it off because I was too chicken to have the work done. Now it is getting to the point where something needs to be done sooner, rather than later.
I saw Dr Constantine Reppas, where I usually see Dr Joanna El-Maasri and I have to tell you, Dr Constantine Reppas is also amazing. We discussed why, how, where, the process and every question or concern I had, my mind was put at ease. The way in which he described the options for treatment, made me feel very comfortable. He actually explained that when an implant is installed, there need to be enough bone for the implant to grab onto, both in the height and width. It would be like screwing in a screw into a piece of wood. If you have a large piece of wood, the screw goes in nice and easy. If you have a small thin piece of wood and you put a screw into it, the chances of the wood splitting is likely. This all made perfect sense to me and I could choose to have the treatment done one way to fix it with a crown, or another way would be to fix it would be with a bridge. Then we discussed how everything would look at the end, the process to get me there and the differences between the two procedures.
Feeling very comfortable, I made the appointment right away to see the specialist next week. Before we make a decision on which way to go, even though we are both leaning towards the permanent solution rather than a temporary fix, we will have a 3D scan of my teeth and jaw to see how much bone we have to grab onto, so we can make the best decision for me. This gives me a chance to hear the specialists opinion after reviewing the 3D scan. I also will have a chance to discuss it with Dr Joanna and Dr Constantine again before we go forward, so that we can all make the best decision for me.
I would highly recommend San Marcos Family Dental to any person or family. I have had the best, pain free experiences every time I walk in. I also feel that I walk out better than I walk in. San Marcos Family Dental and their staff are the absolute best dentist that I have ever been to. It is safe to say, that if you don't love going to the dentist, then maybe you are going to the wrong dentist. Give San Marcos Family Dental a call to schedule your next appointment or free evaluation. You'll be glad you did. They take excellent care of me and I know they will do the same for you, Guaranteed!